Inspired to Taste Canada 2016
---
---
A new initiative and a new partnership proved to be a recipe for success! Taste Canada teamed up with Hudson's Bay to create "Inspired to Taste Canada" – three evenings featuring Canadian cookbook authors at Hudson's Bay's flagship Queen Street store in Toronto. On May 12th, 19th and 26th, the 7th Floor Home Department was centre-stage for Taste Canada-nominated authors to showcase their cookbooks and culinary talents. Featured authors were Matt Basile and his book Street Food Diaries (a contender in the 2015 competition), and 2016 nominees, Mairlyn Smith, author of Homegrown, and True North co-authors, Derek Dammann and Chris Johns. The evenings were a combination cocktail party, cooking demonstration, fan-author meet-and-greet and an all 'round good time!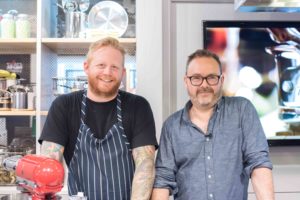 Over the three evenings, more than 330 guests tasted, mingled, learned, explored, Instagrammed and Tweeted, and shopped with glee! Matt Basile charmed the guests, served up Maple Sriracha Cauliflower, Eggplant Meatballs and Alabama Tailgaters and had them craving more street food, Mairlyn Smith had guests rolling the aisles with her humour and inspired them to try wonderful all-Canadian Wheat Berry and Lentil Salad, Jerk Chicken and Cranberry Maple Butter Tarts, while Derek Dammann and Chris Johns gave guests wanderlust to explore the country as they did when researching for their book with Potato Croquettes, Halibut with Sauce Messine and Wild Garlic Pasta.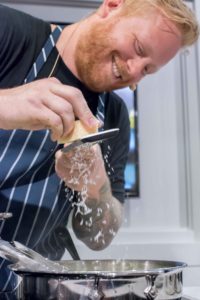 Guests also toured the stunning Hudson's Bay Home Department while sampling Healthy Crunch Kale Chips, Lot 40 and Gooderham and Worts Canadian Whiskey, Sawdust City beer in Speigelau Craft Beer glasses, sipping on Nespresso coffee, wine and Flow water, nibbling on Godiva truffle bars and chocolate-dipped strawberries, and ogling the All-Clad Metalcrafters cookware. Taste Canada extends thanks to all of our sponsors and partner, Hudson's Bay, for bringing this exciting event to life.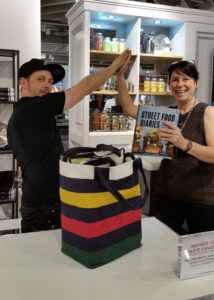 Photos by: 2Boo Studio; Jennifer MacKenzie for Taste Canada
© Copyright Taste Canada Awards - Designed by Pexeto