---
---
If you're looking for holiday recipes to impress your friends and family, we've got just the ones you need to make right now. They're the best of the best from this year's Taste Canada Award-winning food bloggers, and we're so excited to share them with you. There are sweet, savoury, gluten-free and vegan recipes in the mix, so you'll find something for everyone in the list below. Happy holiday cooking to all!
photo credit: diversivore
Wintery produce takes the stage in this Mexican Christmas Salad. Be sure to grab blood oranges when you see them at the grocery store. They're super festive and have a short season, so bookmark this recipe for when you luck out, or swap in regular oranges if you can't wait.
photo credit: oh she glows
These Bread-Free Stuffing Balls are gluten-free, vegan, and soy-free, making them a smart addition to your holiday table if you're cooking for a crowd with many tastes. We also love that they're make-ahead, so go ahead and prep them now.
photo credit: a dash of compassion
Feed your holiday guests a festive breakfast you can make the night before with this Cranberry Apple Spice Overnight Oatmeal. It's sweetened with a slow-cooker cranberry apple sauce, which you'll definitely want to get the recipe for too.

photo credit: kitchen heals soul
The rum frosting is reason enough to make this Frosted Cranberry Chestnut Cake. Double the recipe and gift a loaf to your neighbour, because isn't that what this season's all about?
photo credit: oh she glows
Prep these Vegan Cinnamon Rolls up to 18 hours in advance, then bake them off in the morning for a terrific holiday treat.
photo credit: diversivore
Make "melty" cheese the star of your appetizer spread with this holiday-ready Apple Baked Brie with Honey, Walnut and Caraway. Serve with your favourite crackers and you've got a delicious dish to kick off a holiday evening.                                                                                            

photo credit: kitchen heals soul
Add a little fun to your holiday cookie plate with these Cute Little Gingerbread People.  Their seasonal flavours of molasses and cloves will warm your soul and keep that Grinch away.
photo credit: diversivore
Dip shortbread in white chocolate and roll it in crushed pistachios for an over-the-top treat this season. We find this Cranberry Shortbread with White Chocolate and Pistachio recipe somewhat of a revelation, and look forward to gifting plenty of this and enjoying just as much.
photo credit: oh she glows
End your holiday feast on a sweet note with these Mini Pumpkin Pie Tarts with a Sunflower Cookie Crust. They're vegan, gluten-free, nut-free, soy-free, AND refined sugar-free, so you can feel good about serving them to your loved ones this year.
photo credit: a dash of compassion
You'll never guess the star of these Pumpkin Gingerbread Sandwich Cookies' creamy filling. White beans! You've gotta see it to believe it, plus — they're gluten-free, making them a win-win for everyone.
photo credit: kitchen heals soul
Looking for a make-ahead dessert to take the stress out of the holidays? Grab Kitchen Heals Soul recipe for Holiday Eggnog and Cranberry Christmas Trifle and assemble it before your guests arrive.

photo credit: a dash of compassion
Make your own hazelnut chocolate spread for these Double Chocolate Nutella-Stuffed Cookies and you can be sure the payoff is large. Oh P.S. these are vegan too, so find everything you're looking for in one recipe.
Jessica Brooks is a writer and digital content strategist. Find more of her work at CBC Life and Macleans.ca and follow her on Instagram where she produces baking videos with an unexpected twist.
---
---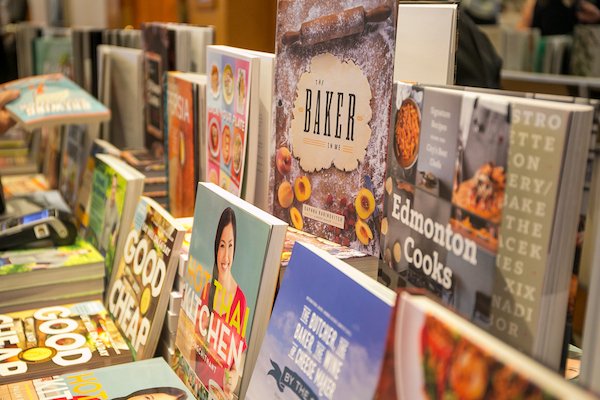 Hey Canada, we're turning 20 this year! We've spent two decades documenting and celebrating this country's best culinary writing. The changes in how we cook, talk, and write about food over the past 20 years has been phenomenal. But we don't have to tell you about it, head on over to our Instagram account, where we're posting the winners from the last twenty years — or even just to see what the cookbooks from 1998 looked like!
To help contextualize this 20-years-of-winners series, we reached out to three Canadian "book experts" to hear how this country's culinary writing has changed most dramatically for them. We spoke to:

Karen Anderson – self published author and previous Taste Canada Silver Award Winner (for her co-authored book, A Spicy Touch)  to get her perspective as an author.

Andrea Magyar – Publishing Director of Penguin Canada, for the publisher's point-of-view (and the publisher of many Taste Canada Award winners over the years).

Bob Newland – owner of Fanfare Books, an independent bookstore which has been thriving in downtown Stratford, Ontario since 1967.

Here's what they consider to be the five most prominent changes:
Social and self-promotion
"Social media has provided an amazing space for new and experienced food writers to engage with readers in a personal and unique way that is bound to continue evolving," said Magyar.  As first the internet and now social media have exploded, authors are building up their own personal following and loyalty, even apart from their cookbooks, so the public is eager and waiting for their next release. On top of that, even the publishers are getting in on the incredible reach they can have on social media to promote new and upcoming cookbooks. If you don't follow any Canadian publishers, you should!
From general to niche
As taste and trends change and grow, there has been a shift towards more focused cooking topics. Whether it's dietary (vegan, gluten-free, paleo), regional (The Prairies, The West Coast, The Maritimes), or ingredient (beer, bacon, kale), you can find a cookbook now on almost every subject. "I probably sell more memoirs or essay [collections] than I do recipe books now," said Newland. Which leads us to the third big change.
The rise of the recipe backstory

Cookbooks have become less about the recipe and more about the recipe maker.  As great as the food might be, we want to get to know the person behind the page, and have the feeling that they are sharing the recipe with us like they would if they were standing in our own kitchen. The strength of the author's voice is something Magyar has seen all along. "[It's] an essential element to a successful book that not only draws a reader in, but also informs, instructs, and entertains."  But what has changed is how much emphasis the author's stories get now. And it's making our culinary writing that much more rich with history and cultural observations.
Food photography
If you opened a cookbook from 1997, you would find mostly recipes, with a few photos of the food in question. Open a cookbook today, and you will find page after page of beautiful, intricate, and expertly framed, focused, and edited food photography… plus some recipes. "The need for food styling and photography has also increased from the Joy of Cooking with only text and a few line drawings, to books like Ottolenghi with stunning full-page photos for each recipe," said Anderson.
The rise of the restaurateur
Twenty years ago, you would hardly know what restaurants existed on the other side of the country, but now you are able to discover and learn about new restaurants and their superstar chefs. These chefs can have such a big following that they can put out their own cookbooks, sometimes with the restaurant, sometimes on their own. "Tastes are becoming increasingly rarified," said Newland.  Either way, the results are delicious!
Here's to another 20 years, and whatever changes they will bring. If you've enjoyed hearing about how food writing has changed, we think you'll like the series we're doing on our Instagram account, highlighting all the winning cookbooks. It's a walk down memory lane, and we hope you enjoy it!
Photo credit: Rohan Laylor
By Tim Peckover
Tim Peckover is a marketer and tech geek who truly loves food, especially if it involves coffee or cheese. 
---
---
Fall is a great season for food lovers. It's a time to embrace comfort foods and the earthy, sweet flavours of apples and root vegetables. To celebrate what's truly in season right now, we reached out to the 10 talented Canadian food bloggers on our 2017 shortlist, asking them for their best recipe to showcase the harvest. From prosciutto-wrapped apples to pie with a twist, here's what they suggest you make right now:
photo credit: oh she glows
Roasted Butternut Squash with Kale and Almond Pecan Parmesan
This vegan, gluten-free, refined sugar-free, and soy-free comfort dish is a go-to for fall.  It pairs perfectly with any main course you love to make. Just look at those colours! Get the recipe on Oh She Glows.
photo credit: a dash of compassion
Easy Stuffed Baked Apples 
These stuffed apples are a healthier alternative to traditional apple pie.  They're baked just enough to soften the fruit and deepen its sweetness. On top of the delectable stuffing, drizzle a sweetener of your choice! Vegan ice-cream with caramel is highly suggested.  Get the recipe on A Dash of Compassion.
photo credit: salt n pepper here
Lasagna with Cashew Béchamel (gluten-free, dairy free)
This lasagna is a tasty vegan and gluten-free alternative. In it, cashews are used to make a creamy, stand-out béchamel. Yes, you read that right! It's a method vegans have been using for years and it creates a satisfying dish your dinner guests will love. Get the recipe on Salt n Pepper Here.
photo credit: diversivore
Swedish Apple Cake
This show-stopping cake is so simple to make, with buttery layers intermixed with the thin apple slices. This dessert will impress everyone you serve it to. Who knows, it just might become your new fall go-to. Get the recipe on Diversivore.
photo credit: the simple green
Orchard Plum Cake with Cinnamon Whip
If you're lucky enough to get your hands on some late-season plums, this is the cake to make. It's guaranteed to warm your soul on a drizzly, fall day. The cinnamon coconut whip on top offers a twist on traditional whipping cream. Plus, the whole cake is vegan too! Get the recipe on The Simple Green.
photo credit: kitchen frau 
Pumpkin Freezer Fudge
This recipe will have you jumping with fall excitement!  It's equally fun as it is tasty.  Kids will love it (and you just might too). Get the recipe on Kitchen Frau.
photo credit: baking for friends
Apple Blossoms Drenched in Rum Caramel Sauce
Turn an apple into a rose and you'll turn heads. Drizzle rum caramel sauce over it and you'll win hearts. And you know what they say — an apple a day keeps the doctor away! Get the recipe on Baking for Friends.

photo credit: you have been served
Prosciutto-Wrapped Baked Apple
When you think fall apple recipes, pie and other sweet desserts may be the first to come to mind.  But why not change things up with this sweet and salty appetizer? It's a beautiful, gluten-free option that will impress your wine and cheese friends. Get the recipe on You Have Been Served.
photo credit: chuo on this
Savoury Sausage and Apple rolls 
This comfort food is bursting with fall flavours! Under its flaky shell, sausage and apple isn't what you'll expect, but they'll soon be what you crave. Get the recipe on Chuo on This.
photo credit: kitchen heals soul
Maple Apple Pie
Everyone loves a traditional apple pie — it's been a fall staple for generations. Why not keep the tradition, but add a twist? This Maple Apple Pie is just the recipe you need. Get it from Kitchen Heals Soul.
By Jenna Labiak
© Copyright Taste Canada Awards - Designed by Pexeto